Taking care of yourself and living actively has never been cooler. The rise of Instagram accounts that are purely focused on health and fitness is a clear signal for that. And it's never been easier to follow that kind of lifestyle if you know what the best health and fitness Instagram accounts are. 
Ironically, Instagram is also a great place to find those amazing, mouth-watering food images. But, this time we'll focus on getting in shape. With just a couple of follows on Instagram, you can find very valuable advice, training tips, workout ideas, and relevant content to be fit.
Since there are a lot of these kinds of accounts, some of them don't really know what they're talking about but have a broad audience because their bodies are in amazing shape. And that's why we've listed the best health and fitness Instagram accounts to make this all easier for you.
The list of the best health and fitness Instagram accounts includes:
Lauren Kanski
Luke Worthington
Tally Rye
Kayla Itsines
Hannah Davis
Anna Victoria
Samantha Gwazdauskas
Tom Kemp
We've taken our time and wrote about each of them specifically to introduce you to each of them. Let's start. 
Lauren Kanski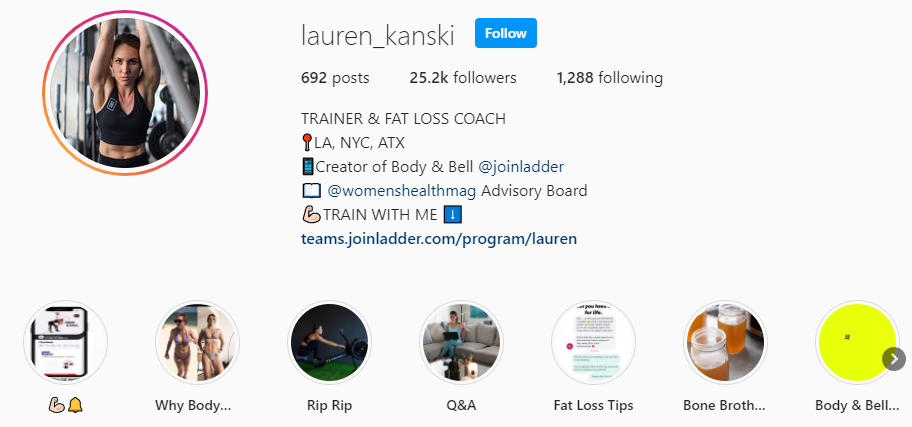 Lauren is the creator of Body & Bell, a trainer, and a nutrition coach. With no doubt one of the best fitness pages on Instagram.
If what you're looking for is a proper Turkish Get-up technique or simply a functional workout you can do on your own, her Instagram is the one to go. She's certified at Performix House and is well-known for being a very good nutrition coach. 
You can also find her in the workout app "Ladder" if you want a one-on-one personal training remote. 
She's currently ad 24.8K followers, and she has a website listed on her Instagram page where you can train with her.
URL: https://www.instagram.com/lauren_kanski/
Luke Worthington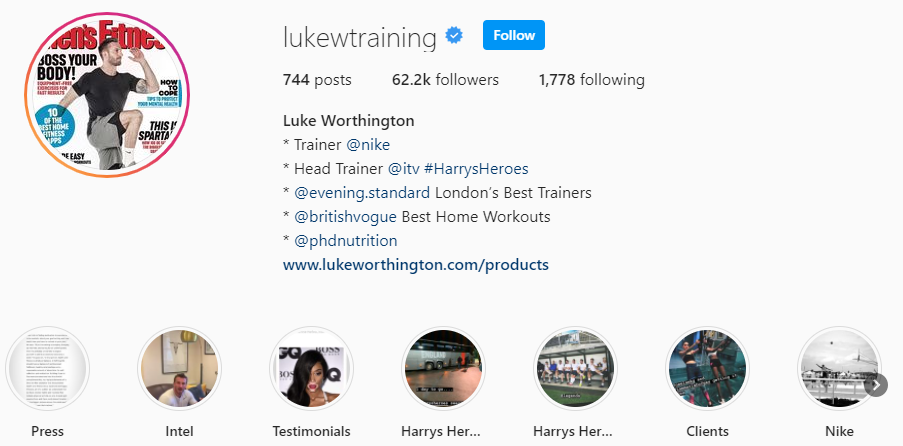 Luke is a former international athlete and currently a Nike trainer. Also known as a sports scientist, personal trainer to a list of celebrities, models, and so on. 
He's one of the most respected people in his domain and industry, considering the experience he has and the results he delivers. There's a joke going around that if he doesn't know something about the human body it's not worth knowing. 
He's currently at 62.2K followers, and he's got a website on his own listed on his official Instagram page.
URL: https://www.instagram.com/lukewtraining/
Tally Rye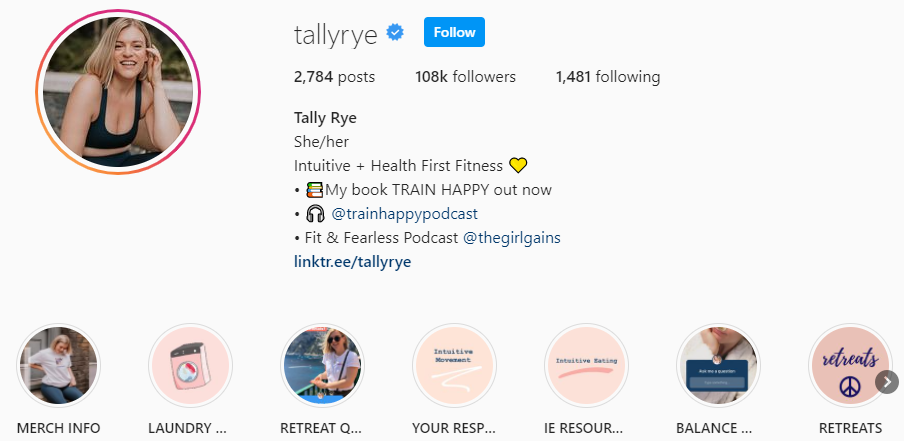 Tally is a personal and group trainer and she's a strong believer in the benefits that are completely unrelated to the aesthetic change that exercise brings. Interestingly, she's an "anti-diet" PT who focuses mainly on the mental and physical benefits of the exercise she promotes.
Her motto is that you have to move your body because you love it, not to punish yourself for what you had to eat.
Tally Rye is one of those fitness models to follow on Instagram because she's got infectious positive energy. 
She tops a 107K Instagram official page and has a website on her profile where you can find more about her. 
URL: https://www.instagram.com/tallyrye
Kayla Itsines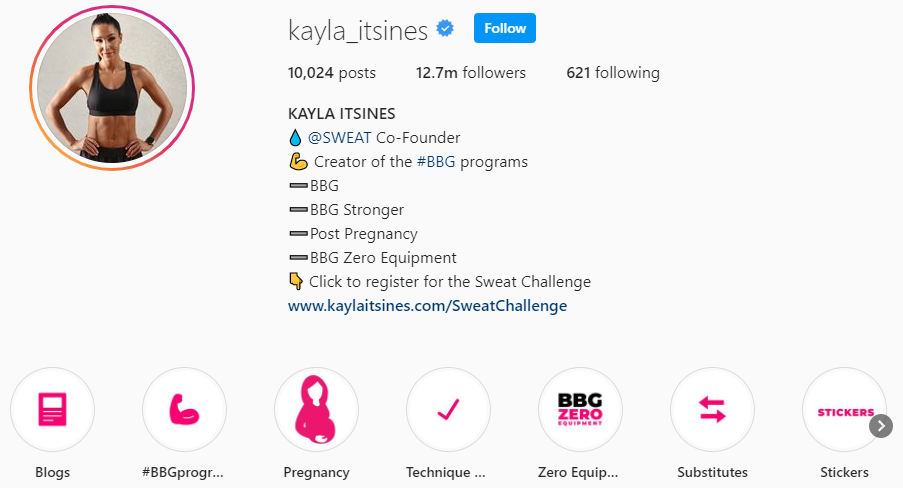 Co-Founder of Sweat, creator of the #BBG programs, Kayla is one of the most influential people in the industry. 
Dubbed as the original Instagram queen of fitness, she constantly posts workout videos, quotes, and transformation of people who listened to what she had to say. She also posts content for female fitness models over 50, which makes her somewhat unique. 
She motivates people by encouraging them to find exercises that are right for them, rather than just blindly follow a path that helped someone. Everyone's body is unique, and you have to find your own path. Kayla has definitely one of the best health pages on Instagram. 
Kayla has currently 12.7 million followers, and not surprisingly so. She's also got a blog on her own listed on her official Instagram page. 
URL: https://www.instagram.com/kayla_itsines/
Hannah Davis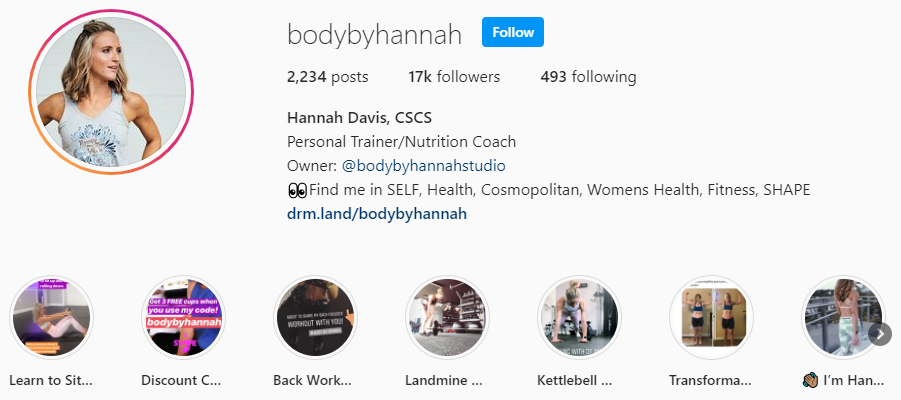 From sandbag circuit up to cardio conditioning, Hannah Davis's Instagram is the place to find mini workouts. 
Frequently, she posts questions to her fans such as their favorite workout, what they're struggling with, their goals, and so on. Then, she provides valuable information to them on how to obtain what they're seeking. 
Her tips are what made her famous, and she encourages people to focus on the process rather than the goal. That's the most important, according to her.
Hannah currently has 17K followers and has a link placed on her account where you can find more about her.
URL: http://instagram.com/bodybyhannah/
Anna Victoria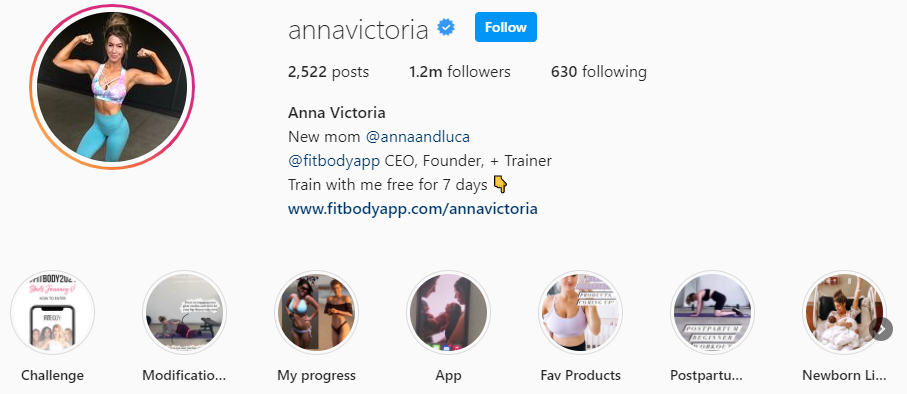 Anna, a new mom as she states on her Instagram page, has an energy that completely infects you. And her Instagram feed is nonetheless the same. She has a mix of, well, everything. 
You can find a workout for your arms, torso, legs, back – pretty much everything. 
She also shares tons of inspirational before-after images of women who use her application. 
She's currently at 1.2 million followers and offers 7-days-free training using her application via a link you can find in her official page. 
URL: https://www.instagram.com/annavictoria
Samantha Gwazdauskas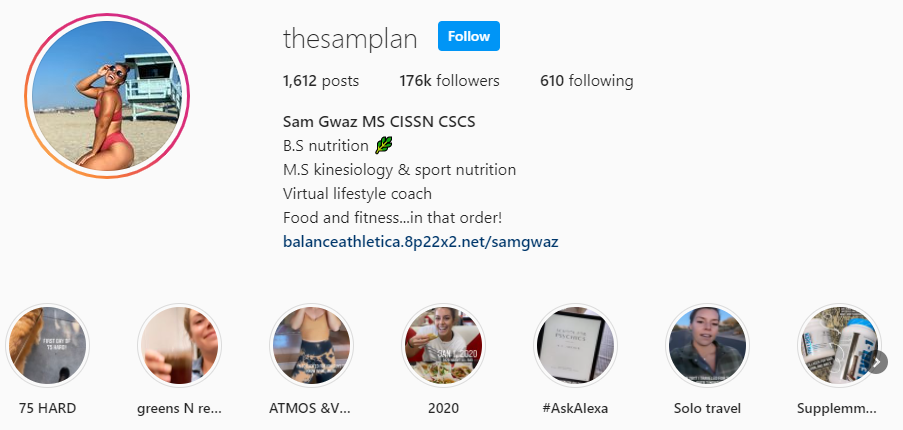 Samantha is a very special influencer because she documented her changing weight and journey from the beginning until now. She's currently pretty healthy, strong, and fit. She's found a great balance between food and her body – the way she trains. 
Her motto is "Food and fitness…in that order!" implying that you shouldn't give up the food you love but rather train hard enough to eat whatever you want. 
She's currently at 173K followers and offers more information in a link shared on her profile. 
URL: https://www.instagram.com/thesamplan/
Tom Kemp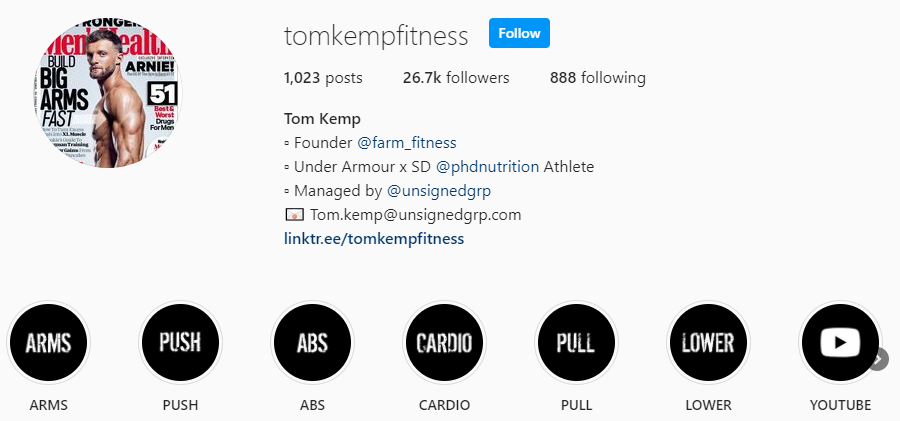 Tom is the founder of something rather unusual –  an outdoor gym in the countryside of England that teaches people how to get strong in a very interesting way. Rather than dumbells, he urges people to get strong by lifting heavy bales, ropes, barrels, and such things. 
He's the founder of "Farm Fitness", a nutritionist at "Under Armour", and is managed by "Unsigned Group". Not to forget to mention that he's a huge outdoor lover!
Tom's got currently 26K followers and has a website listed in his profile as well as an e-mail where you can reach him. 
URL: https://www.instagram.com/tomkempfitness/
So, this was our list of the best health and fitness pages on Instagram. You might want to go ahead and follow each of them and stick to what they advise you to do and you'll see the success in no time. 
If you're looking for something more specific, here are some more specific users you might want to follow.
50 year old fitness model females
Male fitness models over 50
Hottest fitness models on Instagram
Black female fitness models on Instagram
Contribute By InstaDPS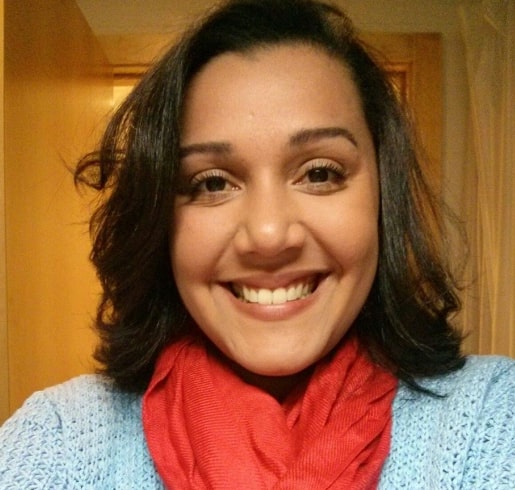 I am Kate, a dedicated health advocate. My purpose is to educate you regarding the most current wellness trends, offer science-backed insights to enhance your understanding, and present actionable tips to support you on your journey towards a healthier and happier life. Let us commence this wellness path together!